Custom Design & Architecture in Greater Pacific Palisades, California
Architecture Services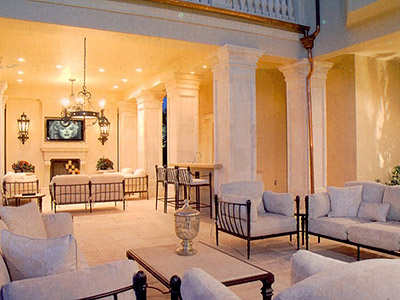 Charles Hefner is a board-certified and highly acclaimed architect who designs and plans commercial and residential spaces. When you choose us for your new build, remodeling, or renovation project, you can be sure that you are selecting the best.

Our approach to architecture and interior design is unique and innovative, and we make sure that our clients get value for money when they opt for our services. We handle start to end design, conceptualization, and planning as well as project administration and on-site supervision. The range of services we offer includes:


Design
Regardless of the type of construction project, design becomes the necessary foundation. Whether you are getting a new home constructed, a commercial structure built, or an existing space renovated or remodeled, you would need the services of expert designers for the job. We provide high-quality design and conceptualizing services. Our team is here to help with every aspect of the job. Charles Hefner is an acclaimed architect with vast experience in the industry and has designed and conceptualized various structures across Southern California. We can provide you with unique, functional, practical, and easy to maintain structures and spaces based on your project needs. Read More About Design >>


Renderings & 3D Drawings
Many different aspects come into play when any structure is being designed and planned. Professional architects like Charles Hefner are committed to providing clients value for money. This value comes from offering high quality, unique designs, and concepts for new construction and home and office renovation and remodeling. However, we also understand that clients want to have a clear idea about how their premises will look once all the features and installations are in place. It is why we provide 3D drawings and renderings as part of our designing stage. These digital drawings give you a visual of how your property will look at the end of the project. Read More About Renderings & 3D Drawings >>


Pre-Planning Services
Pre-construction planning is an essential and complicated process that involves a significant amount of detailed calculations, research, and focus. As an architectural firm that provides start to end design and planning as well as project management solutions, we make sure that the pre-planning process is completed as per the project requirement. This is a customized service that will depend on the type of construction, the use of the building, site analysis that we conduct, and a cost estimate. We work very closely with you and provide you all the details you require in this stage so that you have a clear understanding of what is involved in your project. Read More About Pre-Planning Services >>


3D Visualization & Modeling
Creating unique structures and exterior and interior spaces on commercial and residential properties is something that we have expertise in. We work with our clients to make sure that they get the kind of areas they have envisioned. We offer high-quality design and planning solutions, and 3D visualization and modeling are essential aspects of this process. Providing you value for money includes ensuring that you have a clear idea about how your premises will look once the construction or renovation project is complete. 3D visualization and modeling allow us to give you a clear view and a digital walkthrough of the project. Read More About 3D Visualization & Modeling >>


Site Analysis
Before any construction starts on a site, it is essential to carry out a detailed analysis. This analysis includes aspects such as topography, soil gradation, soil quality, and more. This thorough analysis helps ensure that the site is suitable for construction and stable enough to hold the proposed structure. As an acclaimed architectural firm that provides comprehensive solutions, we include site analysis as part of our service offerings. These professional site analysis services are one of the best ways to avoid any legal complications in the future and to ensure the stability of the structure you are planning to build there. Read More About Site Analysis >>


Cost Development
It isn't uncommon for construction and remodeling or redevelopment project budgets to get out of hand. Sometimes, you end up adding certain features or installations, or the estimation is incorrect. These aspects can significantly up the overall cost of the project and make it unfeasible for you. It is essential to have proper cost development processes in place, to avoid these problems. We offer these solutions to our clients and ensure that you have a clear idea of what the cost of the project would be. We also factor in contingency costs for various projected escalations so that you can make provisions for it in advance. Read More About Cost Development >>


Engineering
Just as architecture and interior design are fundamental aspects of any new construction or remodeling job, engineering is crucial as well. It is essential to make sure that elements such as plumbing, lighting, gas, utilities, etc. are planned as well as the actual structure. We offer expert and reliable engineering services in addition to architectural and interior design solutions. These comprehensive services cover every aspect of your project so that there are no glitches during the construction phase. Proper planning of these different installations and features is crucial to the stability and functionality, as well as the practicality of the space. Read More About Engineering >>


Presentations
Presentations are an integral aspect of every new construction, upgrade, and remodeling job on residential and commercial properties. We aim to offer our clients high-quality services and make sure that they get comprehensive design and planning solutions. Charles Hefner recognizes that his clients need proper visibility of how the different features and installations would look once they are in place. His construction presentations go a long way in achieving this objective. These presentations could include actual 2D drawings as well as 3D designs and rendering. The plans and layout will be to scale and give you a clear idea of what your property will look like once the project is complete. Read More About Presentations >>


Interior Design
Even if you have a very well structured building, the only way it can be made comfortable, livable and usable is to have the right interior design features. We offer high-quality solutions to our clients and make sure that all the interior spaces are planned perfectly. We focus on aspects such as functionality, practicality, movement flow, as well as comfort. Our residential and commercial clients rely on us to provide them these solutions, and we go the extra mile to meet their needs. All the areas and installations will be stable and serve their purpose well. Read More About Interior Design >>


Planning
Every construction project needs proper planning, down to the last detail. At Charles Hefner architect, we plan and design the structure during the architectural planning stage. In this process, we include various aspects such as architectural drawings specifications of multiple designs and detailed calculations. Time planning, budgeting, and contractual documentation are the other aspects that are part and parcel of the planning process. We also provide plan sheets, which include roof plans, floor plans, and foundation plans. This detailed approach goes a long way in ensuring that your entire project has a good foundation and that the planning is completed thoroughly. Read More About Planning >>


On-Site Supervision
We are an architectural firm focused on providing our clients with top-notch solutions. To meet this objective, we provide start-to-end design, planning, conceptualization, budgeting, as well as on-site supervising solutions. Charles Hefner always involves himself very closely with every stage of the project. His responsibility does not end merely with providing designs and plans for your project. He also makes sure that the on-site supervision and administration are completed as thoroughly as every other stage of the job. His constant supervision and guidance during the construction and completion phases help ensure the stability and high quality of your project. Read More About On-Site Supervision >>


Accessory Dwelling Units Architecture
We provide accessory dwelling unit (ADU) architecture and design services for all types of ADUs. Whatever your goals, we can assist you with the design work. You may want to create a rental unit that generates regular passive income. You may want to create a separate studio or workspace, attached, or detached. ADUs are commonly required by homeowners to create extra space for an aging loved one. We offer both pre-designed and custom-designed solutions based on your unique needs. Wherever you want your ADU to be added to your property, you will need professional design services. With years of specialized and local experience, we can make a difference to your project, no matter the size, type, and complexity involved. We offer affordable and signature designs that add greater value to your property. Our design services are offered for detached, attached, garage conversions, internal conversion ADUs, and all other types of units. Read more about Accessory Dwelling Units Architecture >>

We complete every stage of the project to the highest standards so that your new build or home renovation is a class apart. Regardless of what your interior design or architectural requirement is, we at Charles Hefner Architect are here to help. You can contact us through this Online Form or this number- 818-793-1325. We look forward to working on your project.

We Provide Services to the Following Cities and Towns in CA: