Custom Design & Architecture in Greater Pacific Palisades, California
Renderings & 3D Drawings Simi Valley, CA
We have been providing architectural designs for clients in Simi Valley, Los Angeles, and Thousand Oaks. Our renderings & 3D drawings are the best that property owners in these locations can have, which make us the leading company offering such services. With decades' worth of experience serving Southern California and beyond, you can surely count on us for stunning and detailed designs for your project.
Please call us soon or visit our Agoura Hills office so we can better discuss your design needs.
Unique and Personalized Design Renderings and 3D Drawings
We're known for our unique and personalized renderings & 3D drawings that we achieve by collaborating with clients from start to finish. We pay keen attention to details to ensure that the client will be satisfied with the final design plan. Our ultimate aim is to ensure that the clients will have a standout interior or exterior (or both) based on the designs that we will create for them.
Design Renderings and 3D Drawings We Can Create
At Charles Hefner Architect, we can create architectural designs for residential and commercial properties. Our architects can finish excellent renderings & 3D drawings for the following: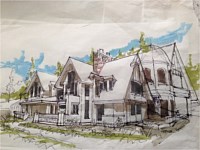 Home plans
Remodeling and renovation (residential and commercial properties)
Commercial building plans
Apartment complexes
Housing communities
Restaurants and hotels
Use of Modern Design Tools
We use only modern design tools and software for all our projects in Simi Valley and other Southern California locations. We particularly love doing our renderings and drawings in 3D because of the great advantages that they possess. With our help, you can realize your dream design with our renderings & 3D drawings. In addition, you can get an accurate picture of the amenities and dimensions of your property once completed. 3D technology also allows for faster design processes since the software allows quick input of design elements.
Additionally, it's easy to make alterations in the design even late into the process. Unlike traditional design methods where changes can mean redoing the entire process, we can insert any time the changes that we or our clients deem appropriate. We can likewise easily perform QA work to ensure that all design specifications are met and even surpassed.
We Accommodate Requests for Design Revisions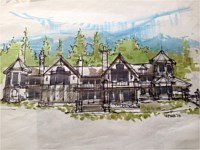 We are aware of the need to stay flexible throughout the project to ensure that problems are addressed outright so positive results are achieved. One of our best practices is allowing clients to request revisions until they are fully satisfied with our proposed design plan. We acknowledge that there are clients with discriminating taste, so we deem it necessary to accommodate their requests for specific changes or additions on the design proposal. The results, as we have proven many times before, are renderings & 3D drawings that perfectly capture our clients' vision for their property.
Impressive Portfolio of Completed Design Projects
As highly experienced designers of commercial and residential properties, Charles Hefner Architect is easily on a class of its own. Our impressive portfolio shows our experience and creative skills in providing the perfect design renderings and 3D drawings for clients in Simi Valley, CA and surrounding cities. We can offer designs that cover start-to-finish aspects of installation, remodeling, or renovation projects.
So please call 818-793-1325 to learn more about our 3D designs and other related services.
We Provide Services to the Following Cities and Towns in CA: